Related Content
Shared Lines Overview   
Article #6491
What is Shared Lines?
Shared Lines feature allows calls made to one phone number to be answered by multiple phone devices. Answered calls can easily be handed off to other phones sharing the same phone number. This feature is a commonly required function in many industries, such as retail, restaurant, warehouse, etc..
Note:  This free feature is available to all Office@Hand Editions and New Sign Ups. Additional cost may apply for new phone line and device purchases.
Features
Allow calls and lines to be shared among multiple desk phones; answer calls on any phone.
Place a call on hold then pick up from another phone.
Supports up to 8 lines with 16 phones with any combination between (1 x 1) and (8 x 16).
Compatible with all Office@Hand Polycom phone devices.
Benefits
Efficiently distribute incoming calls within a specific group.
Easily reach a person at different phones without the need of call transfers.
Eliminate any missed calls. Simply answer calls on any phone.
Easy to add and modify a Shared Lines group over the cloud, anywhere, anytime.
Included for free to all Office@Hand Editions. No additional cost to pay for this function.
Better branding and communications. All outbound calls from a Shared Line group will have a consistent phone number instead of individual numbers or extensions.
Note: This free feature is available to all Office@Hand Editions and New Sign Ups. Additional cost may apply for new phone line and device purchases.
Use Case Scenario
System Requirements
Add a group with Shared Lines
Frequently Asked Questions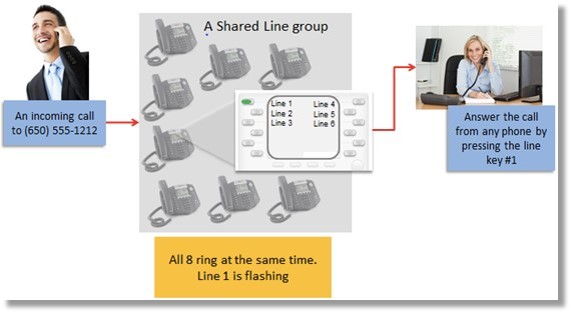 Use Case Scenario
Restaurant
A local restaurant has set up all phones to ring simultaneously at the front desk, the bar and the kitchen.  A call comes in and all phones ring at the same time.  
The hostess is busy in seating customers and away from the front desk.  
The restaurant manager is at the bar.  She answers the call at the bar by simply pressing the line key which is flashing on the phone.
 The Manager greets the caller and then put the line on hold.  The hostess is back at the front desk and notices that there is call on hold.
The hostess then picks up the line and assists the caller with his reservation.
Benefits:  There will be no missed calls from your customers since you can answer incoming calls from any phone.
Retail
A local hardware store offers a toll-free number for all incoming calls which is assigned to a group of 10 phones that share phone lines.
When call to this toll-free number comes in, all 10 phones ring.
An available cashier answers a call in line #3 which a customer wants to check out the availability of a certain lawn mower.
The cashier then places the line #3 on hold and informs the colleague who is in charge at the garden section e.g. using the paging feature
The representative picks up the line #3 at the nearest phone and assists the customer immediately.
Benefits:  You can increase communications efficiency by sharing lines and phones among peers.
The scenarios above are just a few examples of the many benefits of sharing lines in your Office@Hand account.
System Requirements
A digital line is required for each line in a Shared Line group.
Polycom desk phones only. No Cisco desk phone is supported.
Add a Group with Shared Lines
Office@Hand Account Administrators can follow these steps to add a group with shared lines:
Log in to your Office@Hand online account.
Under Phone System, click Groups.

On the Shared Lines tab, click the New Shared Line button.

Provide the Group Name, Manager's Email, Extension.

Select Existing Number or New Number. Choose the State, Area Code, and Lines count then click Add to Group. Click Next to proceed.


Note

: You may click Remove if you want to remove the current number and repeat the step to generate another number.

Select a Device. You may Buy New Phones or Select Existing Phones.

Select a saved Emergency address or create a New Emergency address.

For a New address, ​fill out the Emergency Address, read the text before selecting the checkbox provided. Click I Accept then click Next to proceed.

Fill out the Shipping information and select your shipping option. Click Next to proceed.

Review and confirm the charges. Click Confirm to complete the order process.

Upon completion, the Shared Line group will now appear, you may proceed to setup and customize your Shared Line.
Modify settings options are available:
On the Shared Lines tab, click the Shared Line group that you wish to modify.

Select the tab you want to modify.
Shared Line group name – Group Details where you can set up the extension number and Shared Line group name, group password and regional settings, etc.
Direct Numbers – Establish direct numbers (toll-free, local, vanity) with routing options.
Greeting & Block Numbers – Set up group greeting message (before routing) and block incoming calls.
Call Handling – Select options to forward calls when lines are busy during and after business hours.
Outbound caller ID – Select a number for external communications.
Messages & Notifications – Set up voicemail greeting, message recipient and notifications for messages, missed call, and received faxes.
Frequently Asked Questions
TABLE OF CONTENTS
See Also:
Office@Hand Service Expansion Frequently Asked Questions
Keywords: Shared Lines, Shared, Lines, Overview, Department Administration, 6491
---