Related Content
Office@Hand Billing Overview
Article #2918
Getting to know the Office@Hand Billing
The Billing tab leads to menus for managing your Service Plan, and permissions for International Calling.
Note: You need to call Customer Service if you need to change your Payment Method or credit card information.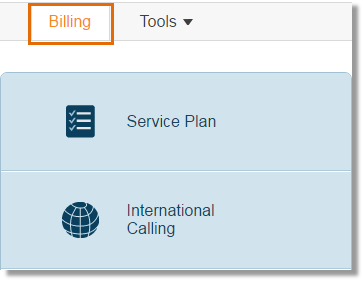 This article provides Account Administrators the information about the Billing settings that can be changed in the Office @Hand Online Account.
Service Plan
Review particulars of your RingCentral Office@Hand from AT&T plan, Billing Plan, International Calling Credits and Additional Services.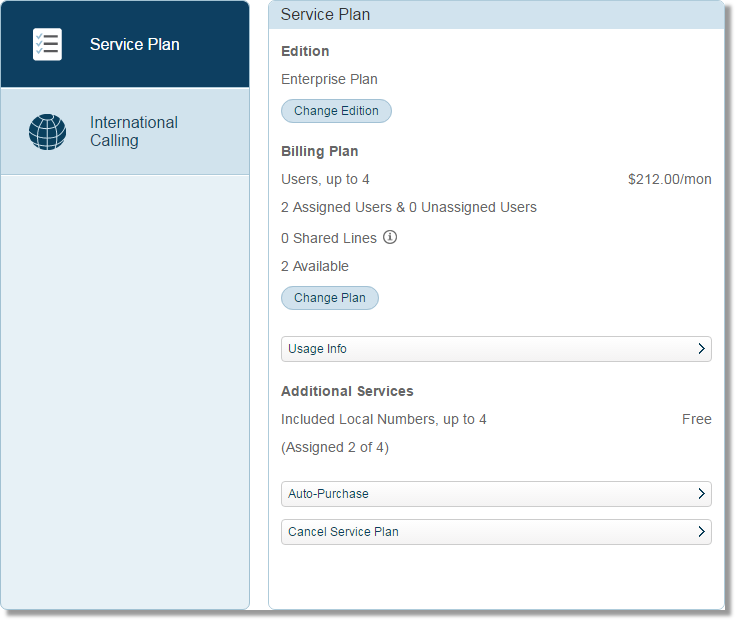 Change Edition
Gives you information about the different advanced Editions and its features. It also gives you information on how to contact customer service for more information.
Change Plan
Changes your plan including modifying the number of Premium and Virtual users on your account.
Usage Info
Displays the account credits you have consumed for the current billing cycle. Included Toll Free Credits, Toll-Free Usage, Calling Credits, and International Calling minutes are displayed in this section.
Auto-Purchase
This feature ensures that you will never run out of calling credits for making international calls. It lets you select a Calling Credits package of $20 or $100, which will be automatically renewed when you run low, thus preventing any interruption of service. Purchased funds will roll over month to month for up to 12 months. The price of international calls will vary according to the applicable international rate.
Cancel Service Plan
This section gives you information on how to contact customer service for cancellation of your service plan.
International Calling
This section is where you can enable, disable, and view international calling rates.
See Also:
Changing the Service Plan of your Office@Hand account
Managing your Service Plan Settings using the Office@Hand Mobile App
Setting Up International Calling on Your Mobile App
International Call Rates
Keywords: billing, overview, service plan, basic features, 2918, International Calling, Service Plan, change edition, change plan, usage info, auto-purchase
---