Related Content
Display Interactive Voice Response on the Office@Hand Desktop App
Article #8761
What is the Display IVR feature on the Office@Hand Desktop App?
When someone calls you on the Office@Hand Desktop App, you may decline the call and send and IVR on the caller.  The caller may reply to the IVR to send a message and/ or inform that the call is urgent.  
Use Case Scenario
Lee, an IT Manager, is currently in a meeting when he receives a call from his colleague, Wendy. Lee, unable to answer the call, sends an IVR to inform Wendy.  Wendy receives the message, but the call is important and needs urgent response from Lee. Wendy taps "5" from his phone and enters a call back number that instantly sent a response to Lee's desktop app with an urgent message.
1. Lee sends an IVR instead of answering Wendy's Call.
2. Wendy taps "5" and inputs his message to reply to Lee's IVR.
3. Lee displays the IVR reply from Wendy.  Lee may click Call to immediately call Wendy.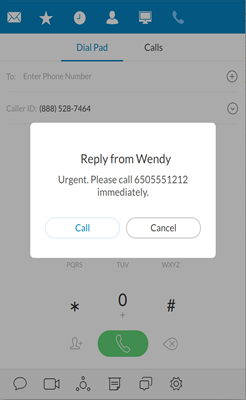 Keywords: 8742, IVR, office@hand, officeathand, desktop app, Interactive voice response
---