Related Content
Office@Hand: Contacts tab overview
Article #2616
Viewing Company and Personal Contacts via the Web
Click on the Contacts tab to view the contacts you have on your Office@Hand account, both from your Company and Personal contact lists.
Note: Administrators have no access to view or edit another User's Address Book (Personal Contacts). Before proceeding to the steps below, make sure that you are already logged in to your Office@Hand Online account. See Office@Hand: Logging in to your Office@Hand account to know more.
Click the Contacts tab.

Note: If you are logged in as an Administrator, you need to switch to My Extension view to see the Contacts tab. To switch to My Extension view, hover your mouse over Admin Portal, and then click My Extension.

Select which contacts list you would like to view by clicking on either Company or Personal tab.
Company
The Company tab displays all the Users in your Office@Hand system. It would show the following information, First Name, Last Name, Extension, Number, and Email.
Only Administrator are allowed to add, edit, or delete a Company Contact (User), see Office@Hand: Adding or Deleting Users via online account.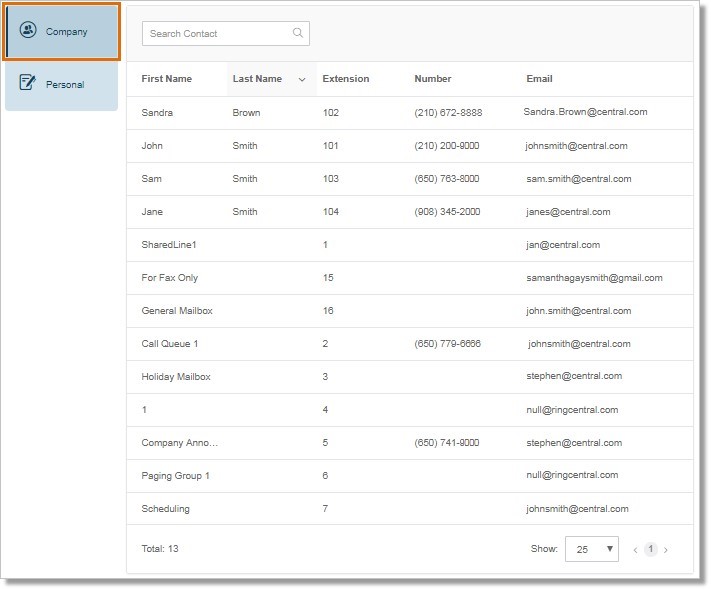 Personal
The Personal tab displays your Personal contacts list. It shows the First Name, Last Name, Home Number, Business Number, Fax Number, and Email.
Administrators and Users may add contacts, create groups, import contacts, and export contacts. See the links below to learn more.
Office@Hand: Personal Contacts Overview
Importing Personal Contacts to your Office@ Hand account
Office@Hand: Exporting Personal Contacts via Web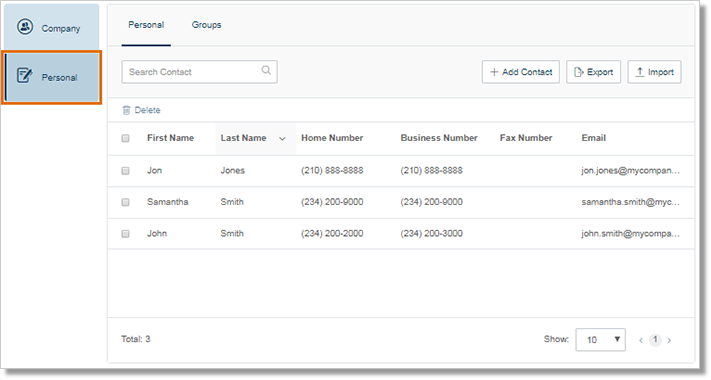 Keywords: contacts, company contacts, personal contacts, names, contact information
---