Related Content
Using the Conference feature on Your Mobile App
Article #4655
The Conference feature on your RingCentral Office@Hand from AT&T mobile app allows you to initiate one-click conference calls or send invitations via SMS or email. To do this, follow the steps below:
Step 1:
Launch the Office@Hand mobile app.

Step 2:
Tap the Chevron icon.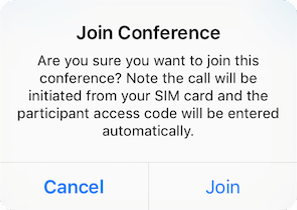 Step 3:
Click Conferencing.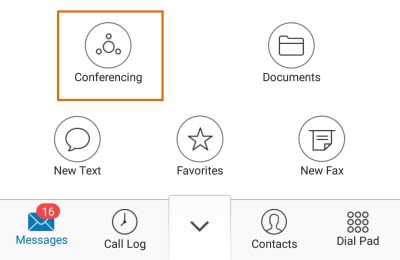 You can perform the following:
• Invite with Text
You can invite participants by sending a text message.
• Invite with Email
You can send a conference invite through your email.
• Join as Host
If you are hosting the conference, you can just join as Host.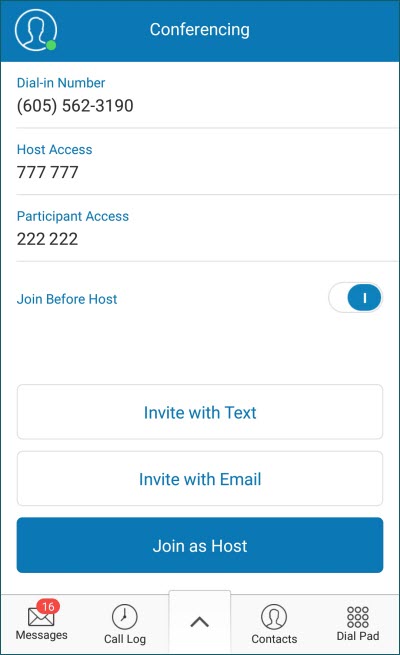 IMPORTANT: When VoIP Calling is turned ON and you tap Join as Host, the Office@Hand mobile app will automatically dial the conference number and have you join the conference without entering the Host Code. When VoIP Calling is turned OFF and you join the conference via RingOut, you will see a pop-up notification that will ask you if you want the call initiated from your SIM card. When you proceed by tapping Join, the conference code will be entered automatically.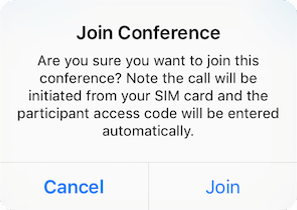 Once the conference is done, you can hang up anytime.
See Also:
Checking the Company Numbers on Your Mobile App
Key Words: Conference, conferencing, iOS, Apple, iPod, iPhone, iPad, Office@Hand Mobile App, Mobile Apps
---