Related Content
Tips to speed up a Number Transfer request
Article #5271
Your regular telephone number may or may not qualify to be transferred to your RingCentral Office@Hand from AT&T. Make sure that you have the necessary qualifications to ensure fast approval of your Number Transfer request.

You will not be able to transfer your number to Office@Hand if you do not pass the qualifying questions before you begin processing your request.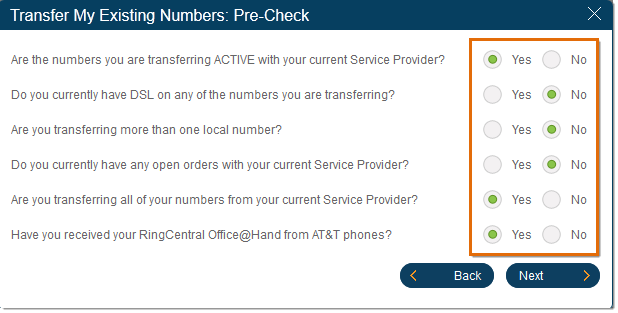 • Ensure that the number you are about to transfer is currently active with your current service provider.

Number transfer will not go through if your current number is unsettled.

• Check if your line is bundled with DSL service.

You will lose your DSL Internet service if you transfer a phone number associated with your DSL account. You must remove your DSL Internet service before the number is transferred. Call your service provider and get a new phone number for your DSL line before you submit your transfer request.

• Remove any special features you have on your existing phone lines.
Office@Hand will be unable to transfer your number(s) if there are any special features such as Centrex, remote call forward, distinctive ring, etc. You may call your current provider and have these features removed before submitting your transfer request. Do not cancel your phone number, only the special features.

• Cancel any open service orders or wait until they are complete.

Office@Hand will be unable to transfer your number(s) if there are any pending service orders on them. Pending orders can include but are not limited to changing the company name, service address, billing address, authorized end-user, or the removal of special features. Contact your current provider to either cancel the service order or confirm that it is completed before placing the transfer request.

Make sure you answer the qualifying questions with the best factual information. Otherwise, you will have to re-do the whole process of number transfer from scratch.
---