Related Content
Skype for Business Meetings app
Article #9025
How do I initiate a meeting via Office@Hand for Skype for Business?
Office@Hand: Skype for Business app Overview allows you to make and receive Office@Hand calls, send and receive SMS texts, initiate Office@Hand online meetings and audio conferences. Follow the steps below to learn more about initiating a meeting on the Office@Hand for Skype for Business app.
Note: You need to have the Office@Hand Meetings client to use this feature.
You may go directly to the Initiate Office@Hand Meetings option from the Skype for Business contact menu.

You may configure the meeting with the following settings:
Topic of the meeting
Meeting Type: a screen share or video meeting
Meeting Options
Enable/disable a meeting password to join. Enter a password if enabled.
Enable/disable participants to join the meeting before the host.
Clicking Invite with Text and Start Meeting will send your selected contacts an invite and initiate the meeting.

You may right-click on a Skype for Business contact and select Initiate Office@Hand Meetings, the contact's name and phone numbers will be populated in the drop-down below the To field in the Office@Hand for Skype for Business app.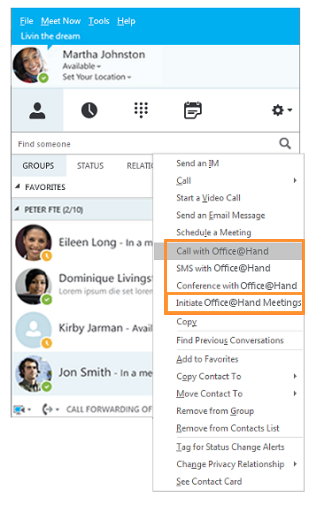 Note: If you have no access to Office@Hand Meetings, the app will prompt you about not having access to this feature.
Keywords: 9025, sfb, skype for business, meeting, initiate, invite
---