Related Content
Setting up and Using Park Locations
Article #8277
How can I set up and use Park Location?
Park Locations allow a specific group of people to park a call in a private location that only specific individuals can pick up.  To be able to do this, they must be added as authorized members of a specific Park Location Group in the AT&T Office@Hand online account.
Sample Scenario
CEO's assistant answers a call on behalf of CEO, who is on another call. Assistant parks the call on a specified Park Location. CEO can then pick up the call on his phone.
In this scenario, the CEO must allow the Assistant to answer calls on his behalf by setting up Presence Permissions. The Assistant must set up his Presence Appearance to show the CEO's Presence status on his phone.  When he picks up a call, he can then transfer the call to a specific Park Location.
Quick Link:  Presence Overview
Note:  Up to 100 Park Location groups can be added through the AT&T Office@Hand online account.
Follow these steps to add and set up a park location through the AT&T Office@Hand online account.
Setting up a Park Location
Setting up Presence Appearance
Parking a Call
Retrieving a Parked Call
Park Locations Frequently Asked Questions
Setting up a Park Location
Click Phone Systsem > Groups.

Click Park Locations.

Click  New Park Locations.

Select Park Location. Click Next.

Specify the Extension Number and the Group Name. Click Save.

Click Yes to add Users that can park calls to the Park Location.

Click Users of this park location.

Click the names of the users that will be added to the list. Click Save.

Click OK.

The Alert window shows a reminder to set up the user's Presence Appearance.

Click Done.
Setting up Presence Appearance
Setting up Presence Appearance displays the park location as a soft key on the desk phone of the authorized user.
Log in as an Administrator to your Office@Hand online account.


Note

: The Admin Portal is automatically displayed by default after logging in.
Click Users.

Click the name of the user that was added to the park location earlier.

Click Phones & Numbers.

Click Presence.

Under Appearance, select users whose presence you would like to monitor. The list shows your name/extension in the first two positions. Starting with the third position, click Select to choose a user to monitor for Presence.

Click Select a User.

Click Park Location extension from the list and then click Done.

Note: Click Preview on my phones to see which lights will be assigned to which users; they are assigned in the order you entered them.

Phones Preview

Select your RingCentral device on the left portion of the Phone Preview screen, and the preview will be shown next to it.

Set the additional Presence preferences:

Ring my phone when any user i am monitoring rings

If a monitored user's phone is ringing, click this box will also ring your phone.

Enable me to pick up a monitored line on hold

If you will answer calls on behalf of other users, it is important to have them give you permission to answer their calls via their Presence permission settings. Tick this checkbox to enable this feature.

Click Save.

You will be prompted to restart your device. Click Yes.
Parking a Call
Upon picking up an incoming call, park the active call by pressing the soft key for the Park Location extension on your desk phone or Softphone.
Note:  From the example above, the extension will appear on the desk phone as Park Location 1.  You can add a call to this Park Location when it is not in use.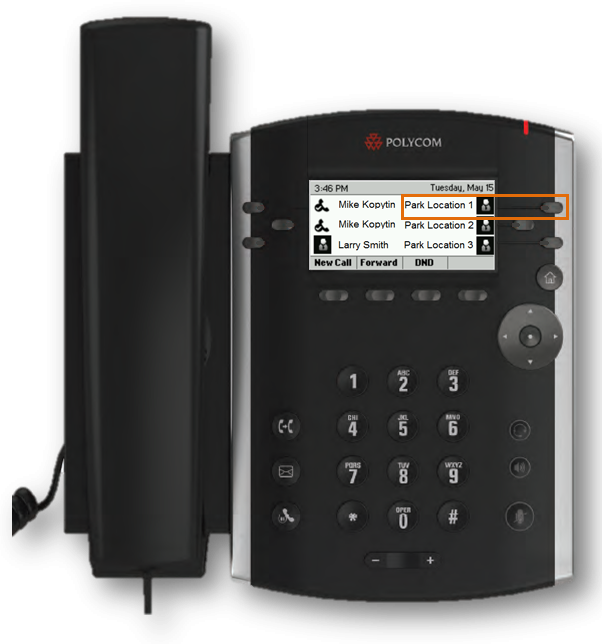 Retrieving a Parked Call
On an authorized phone, press the soft key to pick up the parked call on the Park Location 1 extension.
Park Locations Frequently Asked Questions
How Many Park Location groups can I have?
Each account can have up to 100 Park Location groups.
How many users are allowed in a single Park Location groups?
There is no limit.
Can a user be added to multiple Park Location groups?
Yes.
How many calls can I park on a single park location?
Only 1 call per park location.
When I park a call at a Parked Location, will there be a virtual extension number announced?
No.  The parked call in a Park Location will be visible on a member's phone only.  You can only pick up the parked call from your deskphone.
What happens if someone that doesn't belong to a Park Location group dials the touch tone codes to pick up?
There is no touch tone support for Park Locations.  It is possible to call this location, but the call will be rejected with the error prompt: "This group does not accept phone calls.  You will now be disconnected."
What happens if I pick up a parked call with an active call in progress on another line?
Active call will be placed on hold, and parked call will get picked up.
What happens if I try to park a call that's on-hold, or incoming call?
Error prompt will be played: "Call is no longer available to pick up."  The calls are not affected.
Keywords:  park location, 8277, park, locations, call parking
---