Related Content
Sending an SMS using your Office@Hand Mobile App
Article #3999
How do I send a text message on m Office@Hand Mobile App?
AT&T Office@Hand Business SMS feature enables you to send text messages using your Office@Hand account. Business SMS also works on your mobile devices, whether be it on Android or iOS.
You can enjoy the following benefits with this feature:
Send unlimited text messages
Use one business number for voice, fax and text messages
Send and receive 1,000-character messages to and from Office@Hand extensions or 10-digit local numbers
Message colleagues, clients and department groups. Recipients can reply via Business SMS or their native SMS
Click on the topic below for more information:
Sending a Text Message
To send an SMS using your Office@Hand Mobile App, follow the steps below:
Tap the Chevron Icon.

Tap New Text.

Enter the name(s) or phone number(s) of the SMS recipient(s) in the "To:" section, and then type your message. You can also click the Plus sign to select the SMS recipient from your list of Contacts.

Click Send once done.


Note

: When you enter multiple recipients from your Personal Contacts, the SMS will be sent individually. You will also see a reminder before you send the SMS message.
Using the Group Messaging Feature
Group Messaging allows you to send a message to a call queue as well as to two (2) or more Company Contacts using the AT&T Office@Hand Mobile App. This can be done by setting the name of the Call Queue or having two (2) or more company contacts as the recipient of the text message.
The Group Message icon: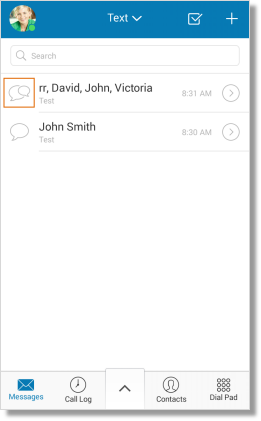 Recipients of the group message can respond with their message shown to the same group as a threaded message.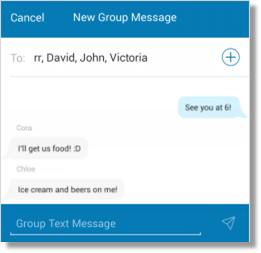 Notes:
Group Messaging works only with Extensions and Contacts in the Company Directory. Messages sent to a Personal Contact will be sent as a separate message.
Recipients cannot be removed or added once the Group Message has been created.
Forwarding a Text Message
There are instances wherein you need to forward a text message that you received to another number. The Office@Hand Mobile App allows you to forward messages so you do not have to compose and type a new message to send to a contact. To forward a message, follow the steps below:
Launch your Office@Hand Mobile App.

Open the message that contains the text that you wish to forward.

Tap the text that you wish to forward, and then hold it until you see the Message Options. Tap Forward under the Message options.

You will be re-directed to the New Message screen where you can edit and add to the message that you wish to forward. Enter the recipient's phone number, and then tap Send.
Quick Reply from Text Message Notification (iOS 9 and later only)
User can reply to a text message in the Notification tray directly in iOS 9 and later.
When you are using your phone and a Text message comes in, tap on the notification, and then select Reply.

Enter your reply, and then tap Send.
See Also:
Viewing and Deleting your Voicemail, Text and Fax Messages using the Office@Hand Mobile App
Downloading the Office@Hand Mobile App
Keywords: text message, sms, sending, mobile app, Mobile Apps, send text, forward text, send sms, forward sms, text message, text, compose text, compose
---