Related Content
Recommended Headsets for Office@Hand Desktop App
Article #3871
What are the recommended headsets for the Office@Hand Desktop App?    
IMPORTANT: The Plantronics Hub Software needs to be installed so you can take advantage of the features of your Plantronics headset using the Office@Hand Desktop App. Once installed, go to your Desktop app, then open Settings > Sound. Set the Microphone and Speaker to your Plantronics headset, then enable your Plantronics headset. Click Learn more about using your headset. On the website, type the model number of the headset to search for product documentation.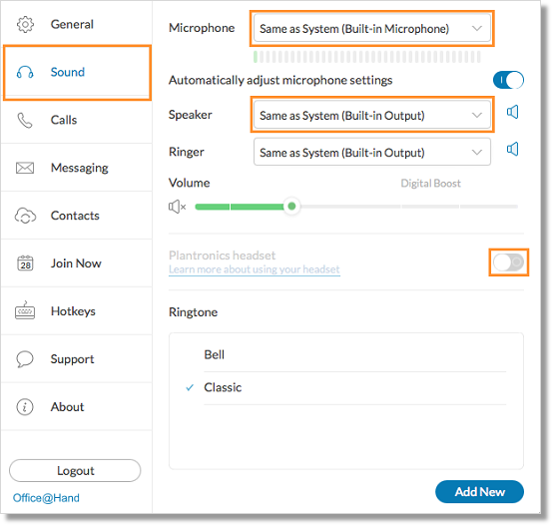 The following headset models are compatible with the Plantronics Integration with Office@Hand Desktop App. This article summarizes how to use the headsets with the desktop app.
Voyager Focus UC
Blackwire 725
Savi 700 series
Voyager Legend UC
Voyager Focus UC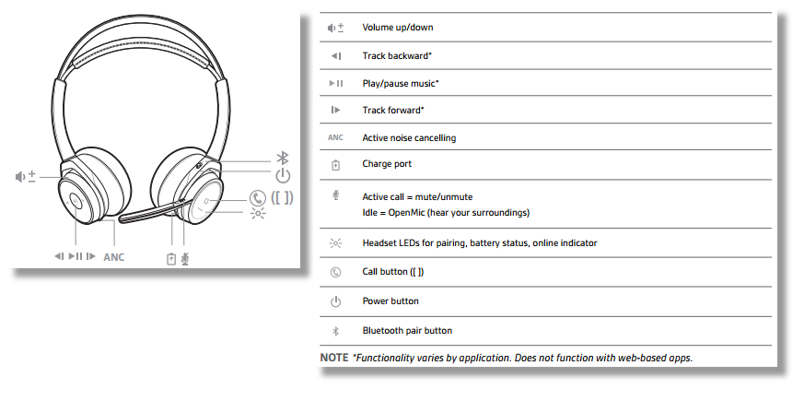 Place Call: On the Desktop App
Answer Call: Tap the Call button, or Put On headset
End Call: Tap the Call button
Mute: Tap the red Mute button, or take off headset
Unmute: Tap the red Mute button, or put on headset
Adjust Volume: Rotate the volume wheel backward (-) or forward (+)
Blackwire725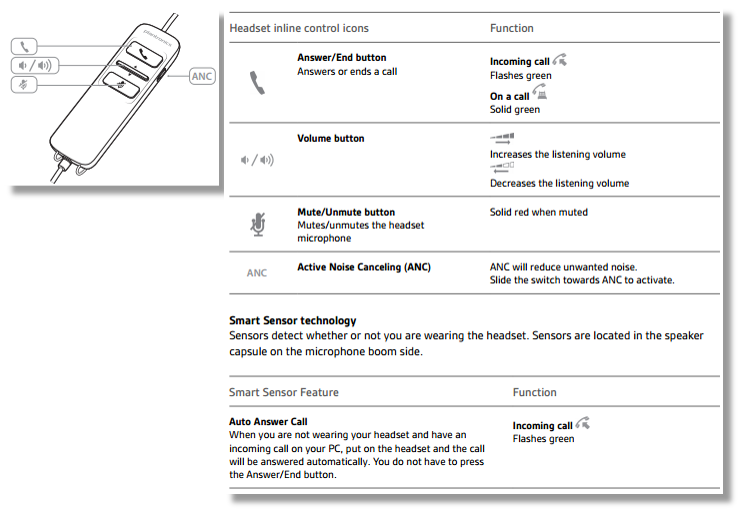 Place Call: On the Desktop App
Answer Call: Press Answer/End button, or Put On headset
End Call: Press Answer/End button
Mute: Press Mute button on the headset inline control
Unmute: Press Mute button on the headset inline control
Adjust Volume: Press volume up or down button on the headset inline control 
Savi 700 Series

Place Call: Short press the Base computer button then dial on Desktop App
Answer Call: Short press headset Call button
End Call: Short press headset Call button
Mute: Press the volume/mute button in
Unmute: Press the volume/mute button in
Adjust Volume: Press the volume/mute button up (+) or down 
Voyager Legend UC

Place Call: On the Desktop App
Answer Call: Tap the Call button, or Put On headset
End Call: Tap the Call button
Mute: Tap the Mute button
Unmute: Tap the Mute button
Adjust Volume: Toggle the Volume button up (+) or down (-)
See also:
Office@Hand: Plantronics Integration with the Desktop App
Office@Hand: Plantronics Hub for Windows and Mac System Requirements
Keywords: speakers, headsets, recommended, 3871, plantronics
---