Related Content
Office@Hand: Setting up Single Sign-on
Article #1059
How can Account Administrators set up Single Sign-on for their Office@Hand account?
Account Administrators can set up Single Sign-on by themselves for their Office@Hand account or contact support for an assisted setup. Administrators can go to Admin Portal > Tools > Single Sign-on to access the Single Sign-on page.
Click on the links below to know ho to set up Single Sign-on.
Set up SSO by yourself
Contact Customer Support

Set up SSO by yourself
To start the SSO self-serve flow, export the IDP metadata from your IDP server first, then follow the steps below.
Click Set up.

Upload IDP metadata from either local file or URL from your IDP server.

Note:  If the IDP (Identity provider) entity ID is used by multiple accounts, you will not be able to set up SSO by self-serve. If we find that this IDP has already been assigned to another account, you will need to contact Office@Hand Customer Support for manual configuration.

The necessary information will be parsed from the metadata and will be displayed automatically.

Select attribute in your metadata which should be mapped to email at the Office@Hand side.


Note

: If the email attribute is not recognized, you will need to type out the name of the attribute by clicking Custom in drop-down.

Manage certificates. You can add multiple certificates, but only the ones identified as Primary and Secondary certificates will be used. If metadata already contains certificate information, it will be displayed. Otherwise, you can add certificates manually in this step. Click Save on the window when done.


Note

: If certificates are expired, the SSO login flow will fail. When IDP notifies you that your certificate is about to expire, you can upload new certificates yourself.

Download the SP metadata and import it into your IDP server to complete the configuration on your IDP side.

Click the "Enable SSO Service" checkbox and then click Save.


Note

: If there is a duplicate email in the account, SSO cannot be enabled.
Contact Customer Support
For an assisted setup for Single Sign-on, click View Detail under Contact Customer Support on the Single Sign-on page.
The Contact Support to Enable SSO window will pop up. Follow the steps to continue.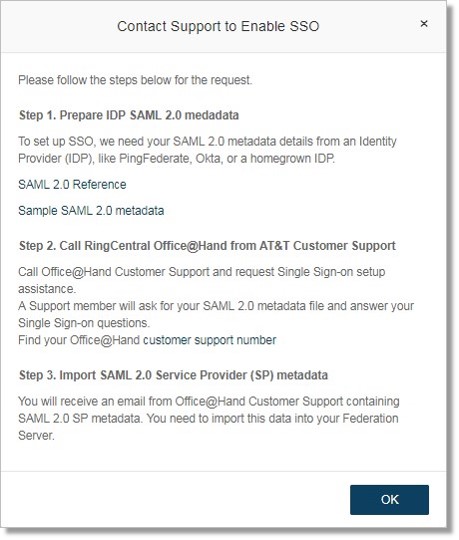 Prepare IDP SAML 3.2 medadata.
This section will show you the sample SAML metadata and the SAML Reference for guidance. You can get the SAML 2.0 metadata details from an Identity Provider (IDP), like PingFederate, Okta, or a homegrown IDP.
Call RingCentral Office@Hand from AT&T Customer Support.
Call Office@Hand Customer Support and request Single Sign-on setup assistance. A Support member will ask for your SAML 2.0 metadata file and answer your Single Sign-on questions.
Import SAML 2.0 Service Provider (SP) metadata.
You will receive an email from Office@Hand Customer Support containing SAML 2.0 SP metadata. You need to import this data into your Federation Server.
Enable SSO Integration.
Keywords: 1059, at&t sso setup, set up sso, sso self serve, single sign-on self serve
---