Related Content
Office@Hand Mobile App Overview
Article #3320
Getting to know the Office@Hand mobile app
The Office@Hand Mobile app is packed with several features. Click any of the links below to learn more.
Share Voicemail/Fax Messages to other apps
Share Voicemail/Fax Messages to other apps
When viewing a fax message, you may click on the Forward icon and select "Share to".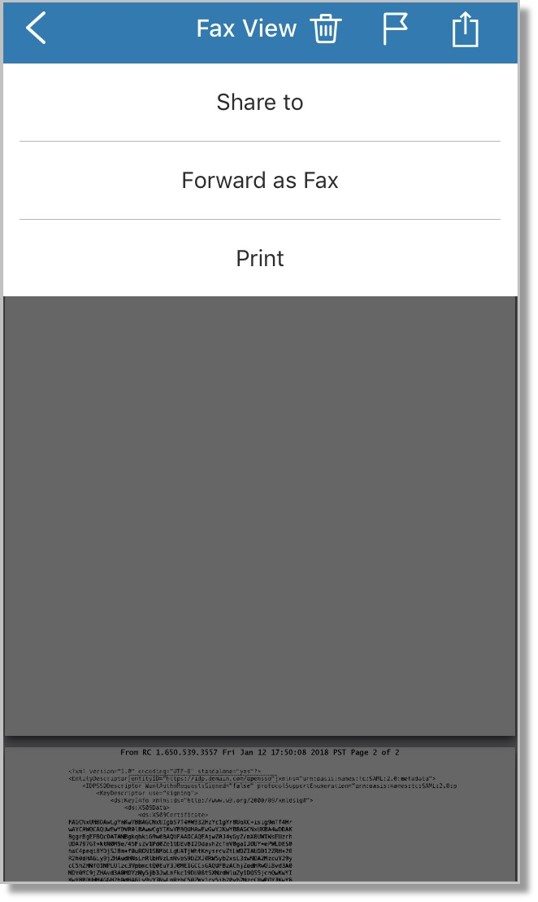 You will have the option to share the fax or voicemail to other apps.
| iOS | Android |
| --- | --- |
| | |
Manage Office@Hand Cloud Contacts
Local contacts from your iOS and Android devices can be imported to the Office@Hand Cloud. Managing your Cloud contacts (creating, editing, and deleting)  can be done directly from the Mobile app.
Cloud Favorites
Easily add, remove, or manage your contacts in Favorites. Contacts you save on your Favorites list get automatically synchronized across your Office@Hand Mobile app and Desktop app.
Company Contact Photo Support
Your colleagues' contact profile images are displayed in your Mobile app. Company Contact photos can be seen in the Contact Info, Contacts, and Favorites sections. You can also see your coworkers' photos in the Incoming Call screen.
Note: Company Contact photos will be displayed in the Contacts and Favorites sections only after they are downloaded.
| Contact Info section | Contacts List section |
| --- | --- |
|   |   |
| Favorites section | Incoming Call screen |
|   |   |
Display Contact Profile Image
Contacts' profile images are displayed under Favorites, Contacts, as well as in the Spotlight Search (iOS only).
| Favorites | Contacts | Spotlight Search |
| --- | --- | --- |
|   |   |   |
Improved Interactive Notifications
A Missed Call notification appears in the push notifications of your iOS device. This feature informs you when there is a missed call, without the need to open the Office@Hand Mobile app. It lets you return the call or view your missed calls using the interactive notification buttons. The Mobile app's Call Log badge displays the number of unread missed calls.
A Join Now notification appears before the scheduled meeting or conference starts. A left swipe on the notification allows you to view the meeting details. On the other hand, a right swipe on the notification enables you to join the audio conference or online meeting right away with a single tap without entering the access code.
Send a quick reply to an Office@Hand Mobile app text message straight from the notification tray without launching your Mobile app. This feature is available for iOS 9 or later.
Save time by sending custom reply messages to the meeting's host or participant/s to notify them about changes in your estimated time of arrival (ETA).
Incoming call notifications are enhanced with condensed wordings. An incoming call was previously displayed as "Incoming Call from." This was shortened to show "Call from." A concise call control button is available to avoid confusion.
For more information, please check the article:
Office@Hand: Interactive Notifications on the Mobile app 
To learn more about Join Now, you may check the following articles:
Office@Hand: Join Now with Google Calendar Integration for Office@Hand Mobile App
Office@Hand: Join Now with Google Calendar and Outlook Integration for Office@Hand Desktop App
Support Features
Supports one active VoIP call
Mute, sepakerphone and switch between calls
Use a Bluetooth headset
Add Fax Cover Page on FaxOut
Active Call Controls: Call Flip, Transfer, Call Recording, and Call Park
Print Fax messages
Send and receive MMS (Multimedia Messaging Service) files such as an image 

– Send MMS to a User with a direct and PSTN numbers.
– Users must use Glip if sending MSS to Users that ONLY have an extension and NO direct or PSTN number.
– Group MMS is not yet supported. Messages will be sent individually. Users can only send a group text to multiple extensions.
– Users can receive new message notification when MMS is received. Quick reply with text is possible, however, no outbound MMS from Apple Watch.
– Supported file types:

Receiving:

• Images: jpg/jpeg, png, gif, bmp, tif/tiff, svg
• Videos: 3gp, mp4, mpeg, flv, wmv, avi, mov
• Files: vcf/vcard, zip, rtf, html, gzip

Sending:

• Images: jpg/jpeg, png, gif, bmp, tif/tiff, svg

Note: MMS can be seen in previews inline in message thread, view or play in-app or in third-party apps. However, cannot send a caption with image as one message.
Incoming VoIP Calling
Incoming VOIP calls is turned OFF by default for both Wi-Fi and 3G or 4G LTE connections
Notification for the Desktop App and SmartPhone option must be enabled for inbound VOIP calling to work
Rings on the mobile phone is the same with the desktop app, i.e. when you are receiving a call on your desktop app, if the incoming VOIP Calling is enabled, your iOS app will also ring, regardless if your iOS number is included in your forwarding numbers.
Inbound VoIP rings along with the user's desktop app and continues to ring until Answered up or Rejected
If the call is ignored, follows call forwarding rules as usual
Reject action stops all forwarding rules and sends call to Voicemail if VM is enabled
Voice quality on 3G/4G LTE depends on network data quality i.e., If the user moves away a from good coverage area to a bad coverage area (i.e. driving in a car), 3G calls may suffer voice quality
Great way for mobile users to know whether an incoming call is an Office@Hand call or not
Inbound ringing profiles use iOS phone settings
The ring tone is the same as the iOS phone ringtone
Support for vibrate mode
Outbound VoIP Calling
Outbound VOIP calling is turned ON by default for Wi-Fi connection
Users have the option to turn ON outbound VoIP calling for 3G/4G LTE connection
Calls default to RingOut if VoIP connectivity is bad
Set Blocked Caller ID
VoIP Call Reconnecting Notification
When a VoIP call is disconnected, the call will be automatically reconnected. Users will hear a reconnecting sound, indicating the call is being re-established. You will also see a "Reconnecting…" notification in the Mobile app's active call screen.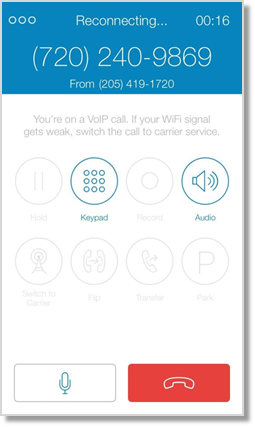 VoIP Call Smart Recommendations
A notification appears when a poor network quality is detected. Smart recommendations are automatically displayed, presenting options to either continue with the current VoIP call or to switch to RingOut.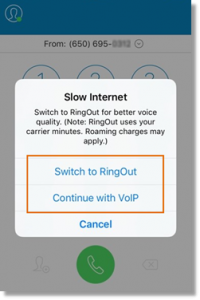 3D Touch Support
The 3D Touch Support feature enables Users to interact with the Office@Hand Mobile app from a phone's home screen. This feature is available for iPhone 6S and iPhone 6S Plus devices only.
To configure your phone's 3D Touch settings, visit the Apple Support site.
Users can quickly access commonly used actions:
– View Call History (Call Logs)
– Start an audio conference call
– Compose a new Text Message
– Launch the Dialpad and make a call
Note: Actions are predefined for all Office@Hand Editions (Standard, Premium, and Enterprise). If your plan does not include the feature, a message will be displayed that the service is not available for the plan.
Swipe with Quick Actions
The Swipe feature provides Users with quick commonly-used actions for handling Messages or Managing Favorites and Documents.
Swipe Actions  

Tab and Message Type

Swipe Action

Option

Messages Tab: Text, Voicemail and Fax Message
left-to-right
Mark as Read/ Unread
Text Message
right-to-left
Call / Delete
 
Voicemail Message
right-to-left
Forward / Call / Delete
 
Fax Message
right-to-left
Forward / Call / Delete
 
Favorites tab
right-to-left
Delete
 
Documents Tab
right-to-left
Forward / Fax / Delete
 
Draft / Outbox
right-to-left
Delete
 
Keywords:  overview, ios, mobile app, android, 3320, Roles & Permissions, contacts, cloud favorites, contact photo, company, profile image, interactive notifications, support, inbound, outbound, VoIP calling, swipe actions, 3d touch support, spotlight search
---