Related Content
Office@Hand Meetings Managing Participants
Article #6536
How do I manage participants?
This article will discuss how to manage participants during a meeting in Office@Hand Meetings.
When you schedule or start a instant meeting, you will automatically be the Host of that meeting.
Note: Remember to login first to start or join the meeting.
The Host of the meeting will have control over all functions and features in the meeting. To access these controls select Manage Participants located in your in-meeting Office@Hand menu bar (toggle mouse to view).

Mute All/Unmute All: you can mute or unmute other participants in the meeting
Lock meeting: you can lock your meeting so that no other participants may join

Make host: you can grant another participant permission to be the host of the meeting
Remove: you can kick/boot participants(s) from the meeting
Allow record: you can allow other participants the option of recording the meeting
Rename: you can rename a participant if you have multiple participants with the same name.
Join before host
When you are scheduling a meeting as the host, you have an option for Enable join before host in the schedule meeting settings: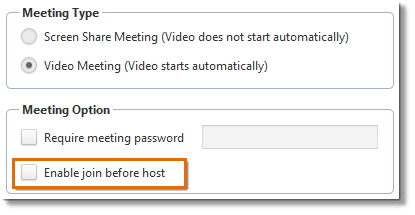 If you do not select Enable join before host, the participants will see a pop up dialog that says "The meeting is waiting for the host to join." If you are the host, there is a login link to login and start the meeting as the host.
If you selected "join before host," then the participants can join the meeting before the host joins.
Note: The meeting will timeout if the host does not join.
Keywords: Office@Hand Meetings, Host Controls, Participants, schedule, meet, Free Conference Calling Feature
---