Related Content
Menu options of the Office@Hand Salesforce App
Article #3994
Once you have successfully installed the RingCentral Office@Hand Salesforce App, you will see the icon for the application in the system tray. The App will display options you can use when you right-click it.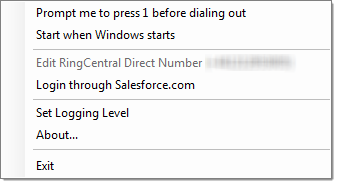 To know more about the menu options, read the content below:

• Prompt me to press 1 before dialing out: When making an outgoing call, a call is placed to the phone number set as Current Location first.

NOTE: If this option is selected then you will have to press "1" before connecting call is made to the destination number else the call will not be completed.

• Start when Windows starts: Selecting this option will make sure that Office@Hand Salesforce App will automatically start when you login to windows without you having to start it every time.

• Edit Current Location: This option is only available if you are logged into your Office@Hand from AT&T account through the Salesforce Softphone. Using this option will let you change the number used in making outgoing call.

Not Logged in/ Logged in: This is an indicator displaying whether you are logged into your Office@Hand from AT&T account in the Salesforce Softphone or not.

• Set Logging Level: This option is used to set the level of logging. By default, this is set to Low – Errors only but in case you face problems while using the application, you can set it to High – Errors, informational messages and XML so it is easier for your administrator to fix the issues.

About: This option will display the information about the application.

• Exit: Clicking on this menu option will close the application.
---