Related Content
Finding your Office@Hand Meeting ID
Article #6504
How do I find my Office@Hand Meeting ID?
The Meeting ID is a 10-digit code that you give to meeting participants who are not in your contact list. This article will guide you on how to find your RingCentral Meeting ID.
For ongoing Meetings
For upcoming Meeting IDs
For ongoing Meetings
You may see the Meeting ID displayed at the top, either on the left hand side or at the middle, of your video panel.

Note: You may not see your Participant ID when screen sharing. If you are in full screen mode, press Esc to see the Meeting ID.
For Android and iOS, tap the screen to display the Meeting ID.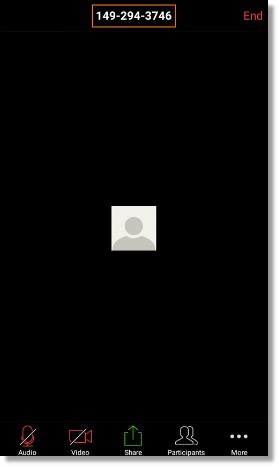 Note: If you click on Participants > Invite, you will see the Invitation URL: ringcentral.com/j/1234567890. The 10-digit code is the Meeting ID.
For upcoming Meeting IDs
Click Meetings.

Under Upcoming, you will see the list of upcoming Meetings. You can see the Meeting ID beneath the topic.
Note: The Personal Meeting ID (PMI) can also be used when setting up meetings. However, the Host of a meeting can change this number so it's best to check the meeting invite to join the correct meeting.
Keywords: office@hand meetings, meeting ID, ID, participant, 6504
---