Related Content
Changing the ringtones and the on-hold music of your Softphone
Article #3835
You can change the ringtones and the music on-hold of your Softphone by following the steps below.

Step 1:
Log in to your RingCentral Softphone.
Step 2:

Click Menu and then select Options.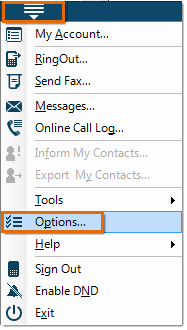 Step 3:
Click Calls and then click Customize.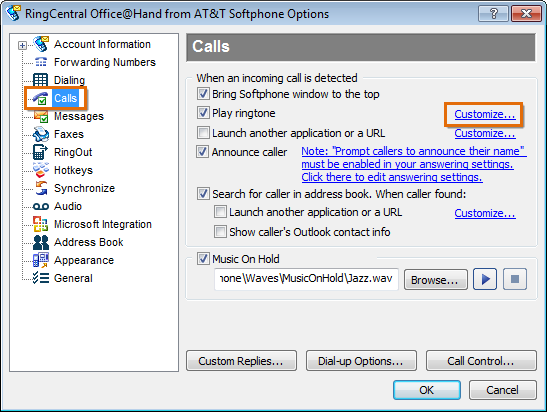 Step 4:
Click Browse and then select the MP3 file you want to use as your ringtone.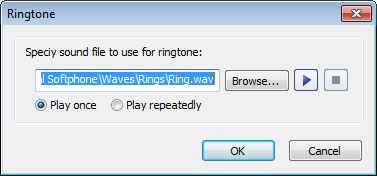 Step 5:
Select whether you want to play the ringtone once or repeatedly.

Step 6:
Click OK.

To change the Music on hold, do the following:

Step 1:
To change Music on hold, click on Browse under Music on Hold.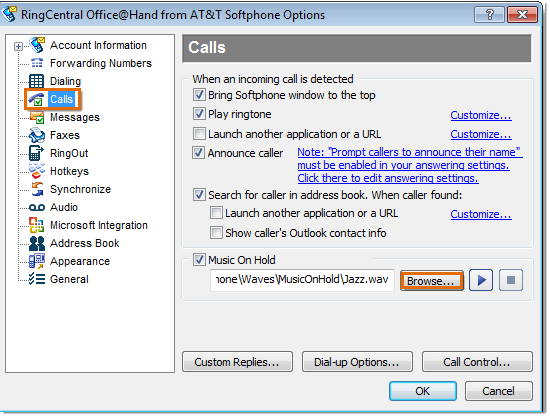 Step 2:
Select the .wav or MP3 file that you want for your Music on Hold and then click Open.

Step 3:
Click OK to save your changes.

You have now successfully changed the Ring Tone and Music on Hold via Softphone.
---