Related Content
[ADMIN] Viewing your Office@Hand Service Plan
Article #3306
Your RingCentral Office@Hand from AT&T online account allows you to check the subscription details of your Service Plan. This article will guide you on how to do this.

To learn more of the Office@Hand Plans and pricing, click here.

NOTE: You need to be an account administrator to perform the following procedure.

Step 1:
Log in to your Office@Hand online account. For instructions, click here.

Step 2:
Click on Billing.



Step 3:
Click on Service Plan.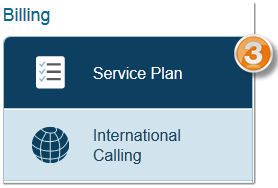 This section allows you to see the following information for your Office@Hand Service Plan:

• Billing Plan – shows you the number of Premium and Virtual users with their corresponding monthly price.
– Premium subscription includes users with IP phones.
– Virtual subscription includes services without physical phones.
• International Calling Credits – If you make international calls, the included plan minutes will vary depending on the applicable international rate.
• Additional Services – shows the additional services included in your subscription.

You have now viewed your Office@Hand subscription service plan.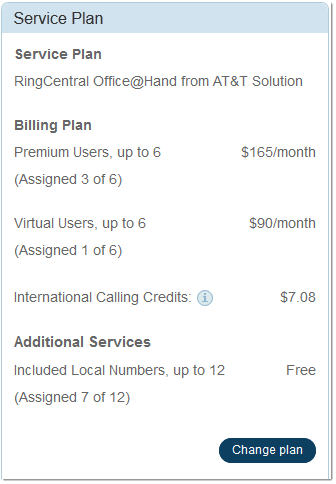 Key words: service plan, billing, plan, viewing, annual, monthly
---