Related Content
Office@Hand: [ADMIN] Setting up an Announcements-Only extension on your account 
Article #2645
How to set up an Extension to play Announcements only via Web
An Announcement-Only Extension is dedicated to playing a message to your callers as an announcement. This eliminates the repetitive task of saying a message to a caller after the other. Follow these steps to add an Announcements-Only Extension to your Office@Hand account.
Creating an Announcements-only extension
Setting up your Announcements-only extension  
Note:  You need to be an Account Administrator to perform this action.
Creating an Announcements-only extension 
Log in to your Office@Hand online account.
Go to Phone System and click Groups.

Select Others and click New Announcements-Only Extension.

Fill out the extension information. Click Save once done.

Follow the instructions on activating the extension sent to the email address specified in the Email field.
Setting up your Announcements-only extension 
Note: Before proceeding with the steps below make sure you are already logged in as the Account Administrator.
Go to Phone System and click Groups.

Click Others and select the Announcements-Only Extension that you want to modify. 

You can now configure your Announcements-Only Extension's settings. The following can be modified at this point:

Extension Info
Direct Numbers 
Announcement 
Extension Info
On this tab you may edit the following: Extension Number, Extension Name, Company Name, Contact Phone, Email, Extension password, Regional Settings, Delete Extension.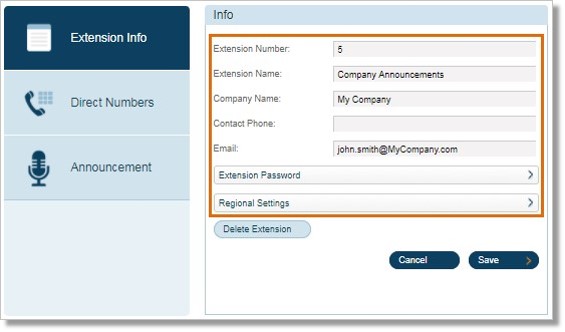 Direct Numbers 
Direct numbers is an optional feature which lets you allocate a specific number to the Announcements-only extension. This routes your callers directly to the extension without going through the menu.
Click Add Direct Number.
Select a State/Province and Area Code.
Select a local number from the list of available numbers. Click Next to proceed.

After clicking Next, a prompt will appear which will indicate that the number was added successfully.
Announcement Settings
This section allows you to set up the voicemail greeting that the caller will hear when they reach this extension.
Click Greeting.

Choose any of the available options, Default or Custom.


Note

: For the example below, Custom was selected.

After selecting Custom, you will see these options:

Record over the phone
Record using computer microphone 
Import    

Record over the phone

This option lets you record your own Announcement greeting over the phone.Select Record over the phone, enter your telephone number in the box provided, then click Call now. Office@Hand will try to reach the phone number you keyed in, after which you will be given instructions on to record your greeting.

Record using computer microphone

Selecting this option enables you to record your own Announcement greeting using your computer's microphone.Click Allow when prompted to enable the microphone. The Microphone test and record settings will appear. When ready, click the red Record button to record your company greeting through your computer microphone.

Stop the recording and listen to the playback. Click the Record button to start a new recording or click the Upload button to save your current recording. 

Import 

This option allows you to upload a customised pre-recorded audio file stored on your computer/device. Click Import, then click Browse.

Note: After you click Browse, you will see a pop-up window where you can locate and select the file that you want to use as your Voicemail greeting. Office@Hand recommends .wav or .mp3 audio formats in the following compression types.

• CCITT u-Law (G711a), 8 kHz, 8-bit, mono
• PCM, 8 kHz, 16-bit, mono  

Once you have selected the file, click Attach.

Preview the uploaded Voicemail greeting. Click the Record button to upload a different file or click the Download button to download a copy of the greeting. 

Click Save.

You will be redirected to the Announcement settings section. Click Save.  
See also:
[ADMIN] Setting up a Messages-Only extension on your Office@Hand account
Keywords: extension, announcements, settings, departments, Announcement Only Ext Administration, 2645
---